20 Free Knitting Pillow Patterns For a Handmade Home
How to Make Your Cushion Cover Removable
Being able to remove the pillow cover for washing will significantly extend the life of your stitches. Here are some general techniques you can use. Each of these will work better with certain pillow knitting patterns more than others.
Button Closure: Instead of making one square for the pillow back, create two overlapping rectangles. Add buttonholes in the edge of one rectangle and sew buttons to the opposite piece. Just like that, you've got a removable cover with some cool button details.
Envelope Style: In this method, the back of the pillow has two pieces that overlap like an envelope. This is very similar to the button closure, but an actual closure isn't needed if the pieces overlap enough.
Zipper: While this option can be more challenging, a zipper can be a sturdy choice that keeps the pillow insert fully enclosed. I suggest pinning the zipper to the knit fabric very securely so it doesn't slip around while hand or machine sewing.
Ties or Ribbons: An easier alternative is using ties or ribbons to close your pillowcase. This can add a cute and decorative detail to your pillow. Simply sew ribbons onto the inside edges of your pillow cover and tie them together to keep the cover closed.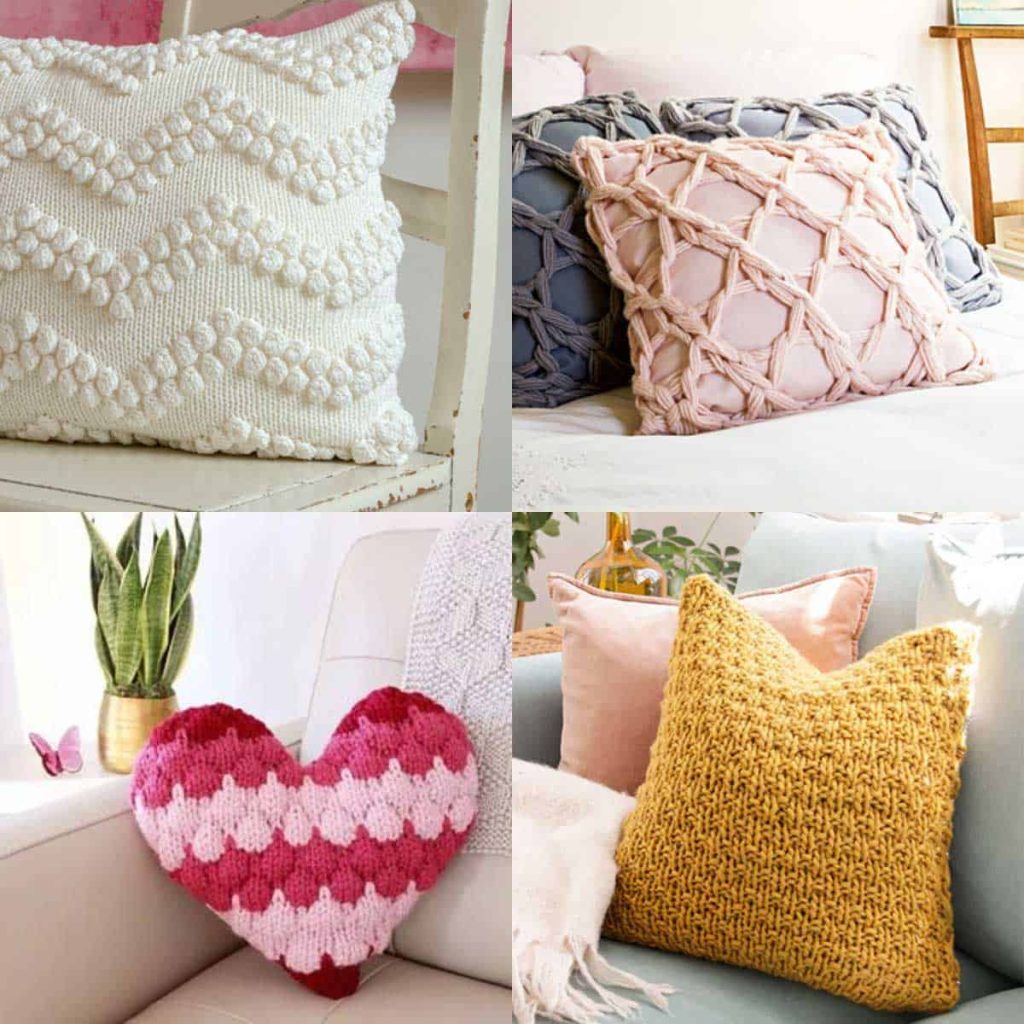 How To Knit an Unusually Shaped Pillow Like a Star or Heart?
A basic square pillow form won't work for every throw pillow pattern. So what's a knitter to do when you want to make a heart, rainbow or star-shaped pillow? In these cases, I like to use fiberfill to stuff the pillow because it can take on the shape of the pillow.
Pro Tip: When using fiberfil, it becomes even more important that your stitches are dense and close together so the stuffing can't pop through the gaps.
Don't Stop at One Pillow!
Knit throw pillows are like the members of a choir. Each one's great on its own, but when they get together, they really sing! Vary your knitted cushions' colors, textures, and shapes to create harmony on your bed or living room sofa.
If you're bi-crafty, try adding macrame and crochet pillows too!