Worsted Weight Yarn: Complete Guide for Crochet & Knit
Knitters and crocheters of all skill levels turn to worsted-weight yarns for a variety of projects. But what is worsted weight yarn exactly? From what it is (and isn't!), when you'd want to use it, and how to choose a good one, I'll cover all your questions about this medium-weight workhorse.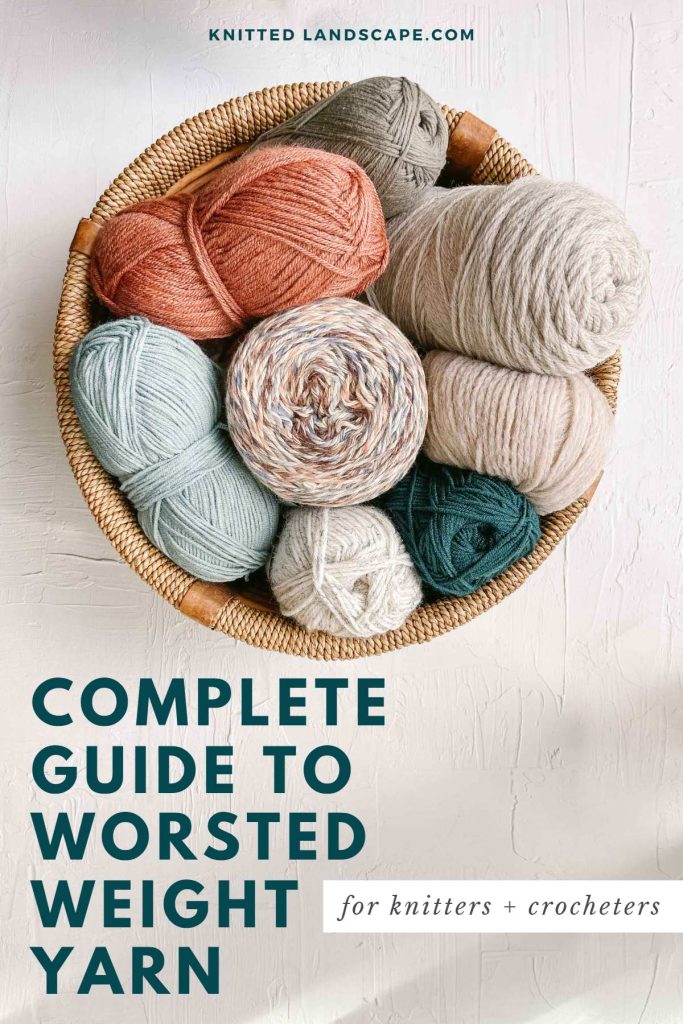 What Is Worsted Weight Yarn?
Worsted weight is a medium-weight yarn that falls in the middle of the spectrum of thicknesses. It is thicker than sport weight or DK weight yarn but not as thick as bulky weight yarn.
As the Goldilocks of yarn, worsted weight is one of the most popular choices for knitting and crocheting. It's just thick enough to make satisfyingly quick projects but thin enough to maintain a nice drape.
Worsted-weight yarn is perfect for making knit and crochet sweaters, accessories, home decor, and toys.
What Number is Worsted Weight Yarn?
The Craft Yarn Council's (CYC) standard yarn weight system classifies worsted weight as a #4/medium.
Where Does the Name "Worsted" Come From?
Historically, "worsted" referred to how the yarn was created rather than a specific fiber content. Worsted yarn was spun from long-staple fibers, such as wool, and tightly twisted to create a smooth, durable yarn.
Today, "worsted" is most commonly used to describe the thickness of medium-weight yarns. If you're in Australia or the UK, you may hear this type of yarn described as "afghan," "aran yarn," or "10-ply yarn." (More on plys below.)
Attributes of Worsted-Weight Yarn
Let's look at the characteristics that make worsted-weight yarn different from other types.
Recommended Needle or Hook Size:
It's generally recommended to use knitting needles in the range of 4.5-5.5mm or a crochet hook in the 7-9mm range with this yarn category. Remember, the exact size of needles or hook depends on your stitch tension and the drape and texture you hope to achieve.
Gauge:
In knitting and crocheting, gauge refers to the number of stitches in one inch. The needle or hook size plays a big role in the gauge of any fabric. Here are some general ideas of what to expect from worsted-weight yarn:
16-20 stitches in 4 inches of knit stockinette
11-14 stitches in 4 inches of single crochet
Pro Tip: Particularly when making clothes, it's important to meet the knit or crochet pattern's gauge because that determines the finished item's size. Knit or crochet a gauge swatch before beginning the full project, and adjust your needle or hook size until you consistently meet the pattern gauge.
Ply:
The term "ply" refers to the number of strands of yarn that have been twisted together to create a single strand.
For example, a single-ply yarn is made of just one strand of fiber, while a two-ply yarn is made of two strands twisted together, and so on. Confusingly, the number of plies is not actually an indicator of a yarn's thickness.
Worsted-weight yarns are available in a variety of plies. The number of plies can affect the appearance and characteristics of the yarn. A single-ply yarn has a softer, fluffier texture and can be more prone to pilling and breaking due to its lack of structure. A multi-ply yarn can have a smoother, stronger texture and be more durable.
If you're making an item that will get a lot of wear and handling, like crochet mittens, it's best to choose a higher-ply yarn.
Texture:
Worsted yarn is available in various textures, from smooth to slightly nubby to boucle.
Meters/Yards per 100g
The number of meters or yards per 100g of worsted-weight yarn can vary depending on the fiber content and brand of yarn. Check the yarn label to determine the exact number of meters or yards per 100g, as this will affect how many balls or skeins you'll need for your project.
Typically, worsted-weight yarn will have between 150-250 yards per 100g.
WPI
WPI stands for "wraps per inch" and is a measurement used to classify the weight of yarn. To measure WPI, take a ruler and wrap the yarn snugly around it, without overlapping the strands. Count the number of wraps per inch. You can expect worsted-weight yarn to have approximately 9-11 WPI.
This can be a helpful trick if you're trying to use up scrap yarn that no longer has a label. It's also useful when combining multiple types or brands of medium weight yarn in one project, as you can evaluate how similar they are in thickness.
This is how I determined that Lion Brand Pound of Love (a category 4 yarn) and Mandala (a category 3 yarn) almost the same WPI, despite being classified as different weights. They come together beautifully in many crochet and knit blanket patterns.
What Can I Make With Worsted Weight Yarn?
This is the most important question of all. Because medium-weight yarn is one of the most popular types, many free crochet patterns and free knitting patterns use it. Here are a few of our favorite things to make with worsted-weight yarn.
Scarves
Scarf and shawl patterns made with worsted-weight yarn can be soft, cozy, and beautiful.
Blankets
Worsted-weight yarn can make gorgeous scrap blankets, baby blankets, and fairly fast afghans.
Sweaters
Worsted weight yarn is ideal for beginner sweater patterns because it allows for quick progress without completely sacrificing drape.
Bags and Totes
Worsted weight yarn makes sturdy bags and totes that can hold heavier items.
Hats
Worsted weight yarn is a great choice for hats, as it works up fairly quickly and is thick enough to be warm and toasty. It can even work well for sunhat patterns.
Pros and Cons of Using Worsted-Weight Yarn
Here are some things to consider when deciding if worsted-weight yarn is right for your fiber arts project.
Pros:
There are many things to love about knitting and crocheting with worsted yarn.
Versatility:
One of the biggest benefits of worsted-weight yarn is its versatility. Because it sits in the middle of yarn weights and is available in a variety of fibers, it can be used for everything from garments and accessories to home decor and blankets.
Medium-weight yarn is easy to work with because it is neither too thin nor too thick to handle.
Availability:
Worsted weight yarn is widely available and comes in every color and fiber type, making it easy to find the perfect yarn for your project.
If you prefer to shop in person, your local yarn shop or larger chain store will most likely have a large selection.
Color Variety:
Because worsted-weight yarn is commonly available, it also offers a lot of color variety. Lion Brand Basic Stitch and Vanna's Choice are my go-to's for corner to corner crochet blanket patterns and crochet stuffed animals because of the wide range of colors.
Fast Progress
Worsted-weight yarn is heavier than thinner yarn, so it takes fewer stitches to cover the same surface area. If you enjoy making fast progress on your knit and crochet projects, category 4-7 yarns will be your best bet.
Cons:
While there are not a lot of drawbacks to worsted-weight yarn, it won't be right for every project. Here are some reasons you might not choose it.
Limited drape:
Medium weight yarns tends to drape better than chunky or bulky yarns, but they're not as drapy as lightweight DK, fingering, or sportweight yarns.
For example, if you aim to create the drapiest crochet dress, worsted-weight yarn might be too thick to achieve your ideal fit.
Limited breathability in summer:
Worsted weight yarn will not be as breathable as lighter weight yarns, making it less suitable for warm weather garments like crop tops and tank tops.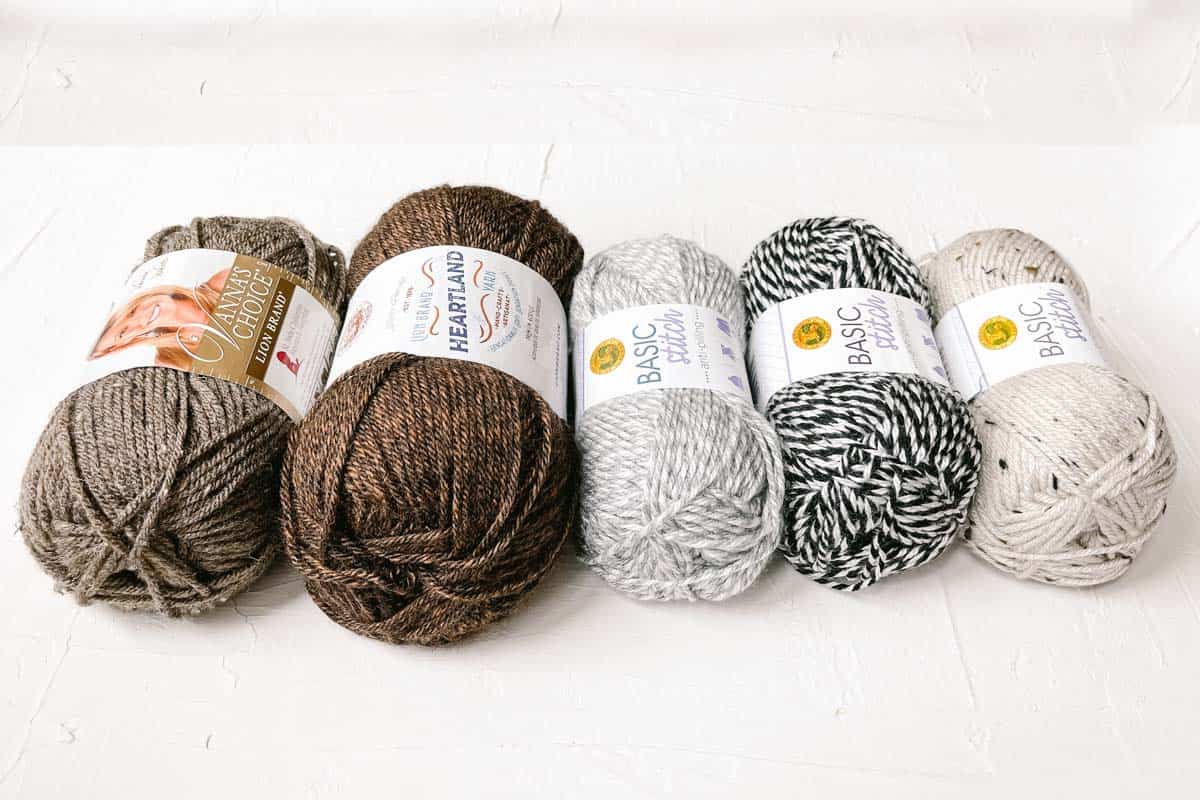 Best Worsted Weight Yarns
Yarn manufacturers create worsted-weight yarn in almost every fiber imaginable. You'll find alpaca, viscose, silk, cashmere, acrylic blends, and cotton yarn in the middle of the yarn weight family.
What makes the best worsted-weight yarn will depend on your project and personal preferences. Here are a few of my favorites.
Vanna's Choice:
This is a popular yarn made from 100% acrylic fiber. It is machine washable, durable, and comes in a few dozen colors. The color variety of Vanna's Choice shines in our C2C Crochet Christmas Afghan pattern.
Wool-Ease:
This worsted wool blend is 80% acrylic and 20% wool, which gives it a natural feel and matte texture. Knitters and crocheters love that Wool-Ease is machine washable and comes in various heathered and solid colors. Check it out in our crochet crewneck pullover pattern.
Heartland:
This yarn is made from 100% acrylic and inspired by natural beauty of the American landscape. Heartland is very soft and easy to care for, with a wide range of modern, muted colors.
Pound of Love:
This light worsted-weight yarn is made from 100% premium acrylic fiber and comes in large 16 oz skeins. It is perfect for baby blankets and large projects requiring a lot of yarn, like our Sampler Crochet Pouf and our chunky blanket pattern.
How To Tell if Yarn is Worsted Weight?
Here are two ways to determine if a yarn is worsted weight.
Check the yarn label:
Most yarn labels will indicate the weight category of the yarn. Look for the number 4 or the word "medium" on the yarn label. This doesn't necessarily mean your yarn is worsted weight exactly, but it does narrow down the thickness to the medium weight category.
Measure the wraps per inch (WPI):
If you've lost the label to a skein of yarn, you can measure the wraps per inch to determine its weight. Follow the instructions above to figure out the WPI of your mysterious yarn.
Worsted Yarn FAQs
What ply is worsted weight yarn?
Worsted weight yarn can range in plys, from single ply to 8-10 ply. Ply varies between types of yarns of the same weight and may not always be indicated on the yarn label.
What is the difference between yarn and worsted yarn?
Yarn is a general term to describe spun fibers used for knitting, crocheting, or weaving. Worsted weight yarn refers to a medium-weight yarn that falls under the fourth weight category defined by the Craft Yarn Council.
What can I use instead of worsted yarn?
If you don't have worsted weight yarn, you can often substitute two strands of a category 3 weight yarn, such as DK or sport weight, held together. Other medium-weight yarns like aran usually work as well. 

When making sized patterns like garments and hats, it's important to make a gauge swatch and adjust your hook or needle size to meet the pattern gauge. 
Is worsted yarn good for beginners?
Worsted weight yarn is an excellent choice for beginners because it's readily available, easy to work with, and provides satisfyingly-quick progress.